---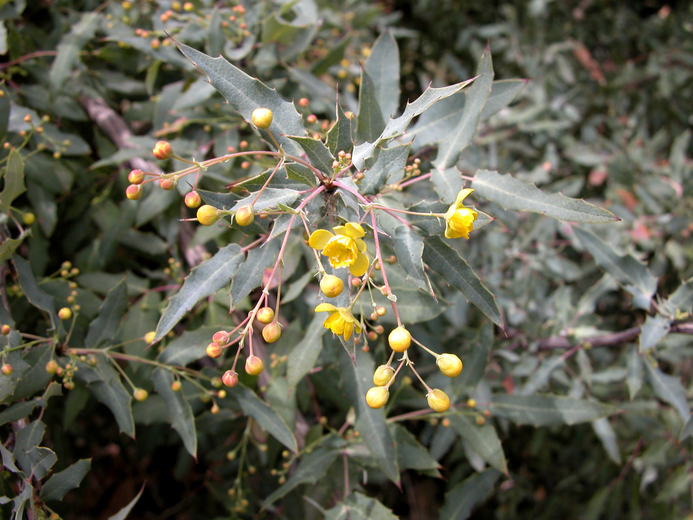 STATUS
Federal status: Endangered
State status: Endangered

FAMILY
Berberidaceae, the barberry family

RANGE
The Loma Linda Hills, Vail Lake/Oak Mountain region, and San Gabriel Mountain foothills in southern California



Appearance
Nevin's barberry is an evergreen shrub that ranges in height from 1 to 4 meters tall. It has pinnately compound and serrated, spiny leaves and produces bunches of round berries that range in color from yellow to red. When in bloom between February and April, it displays clusters of yellow, six-petaled flowers.
Habitat
Nevin's barberry prefers a riparian and alluvial scrub habitat and can be found in foothill woodlands, coastal sage scrub, and chaparral communities. It grows on sandy soils in washes, alluvial terraces, and canyon bottoms.
Threats
Destruction of habitat is the primary threat to this species. The majority of the fourteen known native populations of Nevin's barberry are threatened by urbanization and recreational activities (e.g. the use of off-road vehicles and horseback riding). One population is also threatened by road widening.
Conservation
Both natural and introduced populations of Nevin's barberry currently occur in Southern California. Before it was classified as an endangered species, the botanist Theodore Payne collected and propagated Nevin's Barberry, and it is now sold in nurseries for planting in cultivated landscapes. It is important that native plants continue to be propagated and reintroduced to sites where they historically occurred. It may also be possible to predict sites that will be suitable in the future, based on changing climate conditions.
Where can you spot it?

Individual Nevin's barberry plants naturally occur at Lopez Canyon and Copal Canyon in Angeles National Forest. Larger populations can be seen at Vail Lake in Riverside.