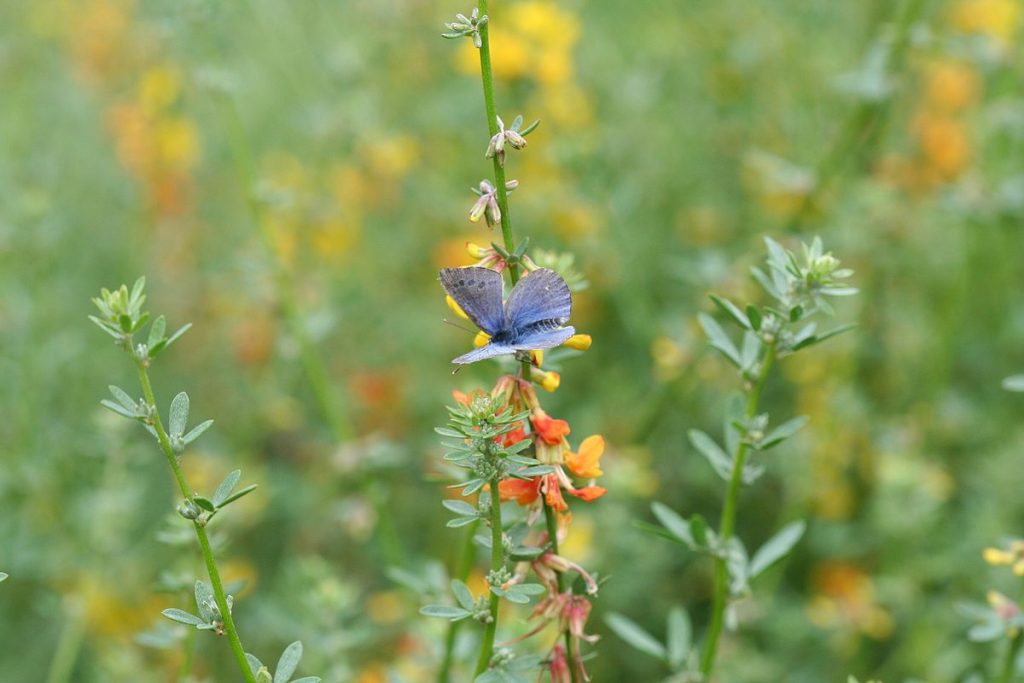 STATUS
Federal: Endangered

POPULATION TREND
(=) Stable

RESTORATION
Difficult

FAMILY
Lycaenidae, the second largest butterfly family

RANGE
Endemic to Los Angeles County, California
Appearance
The Palos Verdes blue butterfly is a small, blue butterfly with a wingspan of 2.5 to 3 cm. The outside of its wings are gray with several round spots highlighted by white rings. Adults occur from late January to early May, and have a lifespan of approximately five days!
Habitat & Behavior
This rare butterfly only occurs in coastal sage scrub on the Palos Verdes peninsula. It exclusively uses Santa Barbara milkvetch (Astragalus trichopodus var. lonchus) and common deerweed (Lotus scoparius) as host plants.
Threats
The coastal areas around Palos Verdes have been developed substantially over the last 100 years. The small size of the remaining coastal sage scrub and further degradation of native habitat are the greatest threats to the Palos Verdes blue butterfly today.
Conservation
The Palos Verdes blue butterfly was presumed extinct for a decade until Dr. Rudi Mattoni discovered a population persisting at the Defense Fuel Support Point in San Pedro in 1994. The population is estimated at 300 individuals. It is now in the running for the rarest butterfly in the world.
Where can you spot it?

The Palos Verdes blue butterfly may be observed at the Linden H. Chandler Preserve in Rolling Hills Estates.

What is critical habitat?

Critical habitat refers to an area that is believed to be essential to the conservation of a federally endangered or threatened species. The designated area does not necessarily include the species entire range.

Learn more

---
Data source: Critical habitat from US Fish and Wildlife Service, accessed via ECOS (Environmental Conservation Online System)
References:
U.S. Fish and Wildlife Service (2014). "Palos Verdes Blue Butterfly (Glaucopsyche lygdamus palosverdesensis) 5-Year Review: Summary and Evaluation." U.S. Fish and Wildlife Service, Carlsbad Fish and Wildlife Office, Carlsbad, California.