---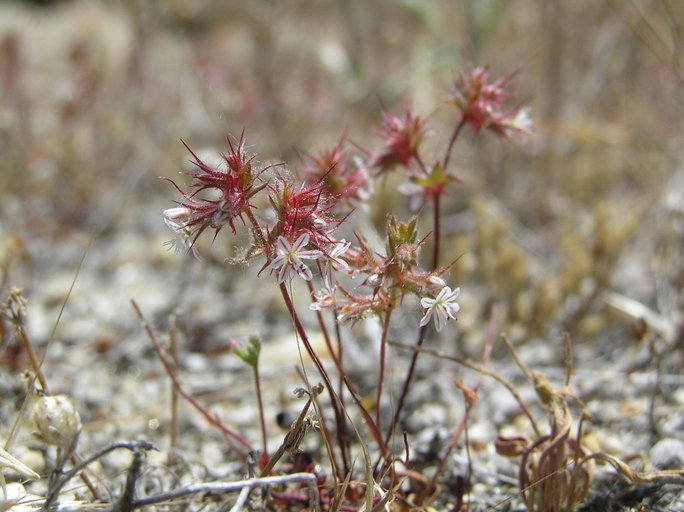 STATUS
Federal status: Endangered
State status: Endangered

FAMILY
Polygonaceae, the buckwheat family

RANGE
Endemic to the Transverse and Peninsular ranges of southern California. As of 2010, 20 populations were known between 200-700m elevation in Los Angeles, San Bernardino, and Riverside counties.
Appearance
This small annual plant is the only species in the genus Dodecahema. It has a basal rosette and narrowly oblanceolate (i.e. a more pointed base) leaves. The branched flowering stalk is 3-10 cm tall with pink flower clusters surrounded by a horned or spiny bract. They bloom from March to June.
Habitat
Slender-horned spineflower occurs in alluvial scrub habitats. It typically occurs in silty washes, terraces, and in uplands or dry drainage channels.
Threats
Loss of the stable alluvial scrub habitat where slender-horned spineflower occurs is the primary threat to the species. Urban development and sand and gravel mining can directly degrade or eliminate habitat and encourage establishment of non-native plants. Urban flood control measures can alter natural flood events necessary for maintaining suitable slender-horned spineflower habitat. Other threats to this species include soil disturbance from off-highway vehicle, trash dumping, and trails created by unauthorized human activities near alluvial habitats. Because slender-horned spineflower is an annual, population sizes fluctuate widely across years and establishment may be poor during drought years.
Conservation
Alluvial scrub is rare in the Los Angeles Basin, and the protection of these native habitats is extremely important for the conservation of existing slender-horned spineflower populations. Human assisted establishment of new populations may require a large investment of seeds over many generations before slender-horned spineflower establishes naturally.
Where can you spot it?

Slender-horned spineflower populations have been found in Big Tujunga Wash in Sunland, adjacent to the Angeles National Golf Club's golf course, and in Bee Canyon in the Sierra Pelona, just north of the San Gabriel Mountains.

---
References:
Sclafani (2013) Dodecahema leptoceras. In: Fire Effects Information System. U.S. Department of Agriculture, Forest Service, Rocky Mountain Research Station, Fire Sciences Laboratory (Producer). [link]
U.S. Fish and Wildlife Service (2010) Dodecahema leptoceras (slender-horned spineflower) 5-Year Review: Summary and Evaluation. [link]